Stephen King News

---

King will be on the cover of Entertainment Weekly, Sept. 23rd issue



Stephen King will appear on the Today show the morning of Tuesday, Sept. 24th. And then later that day he will be signing books at the Barnes & Noble located at Union Square, New York City from noon to 2 p.m. He will only be signing 200 books total at this event.



He'll do an interview with Janet Maslin at the Jacob Burns Film Center, Pleasantville NY on September 25th. This even is sold old.



He will sign books at Borders Books in Ann Arbor MI on September 29th. He will only be signing 200 books total at this event also.



From a Buick 8 is now out in the UK. You can buy it online from Amazon UK's web site.



Illustrations and a screen saver for From A Buick * have been released on the publishers' web site.



The audio version of From A Buick 8 will be read by: Bruce Davison reads the voice of Sandy, Stephen Tobolowsky reads the voice of Huddie/Arky, Peter Gerety reads the voice of Phil, Fred Sanders reads the voice of Eddie, James Rebhorn (Drunk Businessman reads the voice of the Narrator, Becky Ann Baker reads the voice of Shirley.



SK talks about his inspiration for Rose Red. Buy the tv guide, or check it out here



Table of Contents for King's upcoming Everything's Eventual:

Introduction
Autopsy Room Four
The Man in the Black Suit
All That You Love Will Be Carried Away
The Death of Jack Hamilton
In the Deathroom
The Little Sisters of Eluria
Everything's Eventual
L.T.'s Theory of Pets
The Road Virus Heads North
Lunch at the Gotham Café
That Feeling, You Can Only Say What It Is in French
1408
Riding the Bullet
Luckey Quarter




Rose Red on ABC beginning January 27th! Click here for your special invitation to Stephen King's Rose Red



Stephen King Presents An Evening with Pat Conroy, John Grisham, Stephen King & Peter Straub A Benefit Performance for Frank Muller and Family

February 2nd, 2002
8:00 p.m. @ Town Hall
123 West 43rd Street, New York, NY


A book signing at Town Hall will follow the performances.

All proceeds from the event will benefit the Frank Muller Fund, part of the
newly formed Wavedancer Foundation. The mission of the Wavedancer
Foundation is to foster the welfare, healing and recovery of disabled
professionals like Frank Muller and to provide opportunities to rebuild
their lives.

All contributions are fully tax-deductible. Checks can be made payable to
The Wavedancer Foundation (memo: The Frank Muller Fund) and should be sent
to:

The Wavedancer Foundation
c/o John McElroy
44 Kane Avenue
Larchmont, NY 10538


The Wavedancer Foundation will issue receipts for tax-deductions upon request.


Ticket Prices
A $100.00 donation includes preferred seating for one
A $75.00 donation includes general seating for one
A $50.00 donation includes general seating for one


Special Offers
A $150.00 Donation includes preferred seating for one and one book of your choice to be signed by author after the performance

A $250.00 Donation includes preferred seating for one and two books of your choice to be signed by authors following the performance

A $500.00 Donation includes premiere seating for one and four books to be signed by authors after the performance

Tickets are available immediately by email and mail.

Email: mullerbenefit@aol.com

Mailing address for ticket purchases: same as listed above

Please make checks payable to: The Wavedancer Foundation (memo: The Frank Muller Fund)

Tickets will be available on January 12, 2002 at the Box Office at Town Hall and through Ticketmaster at 212-307-4100.



LOS ANGELES, CA, Jan. 3 /PRNewswire/ - USA Network will begin airing the new one- hour dramatic series, THE DEAD ZONE, produced by Lions Gate in partnership with Paramount International Television (Paramount), beginning in June 2002, the companies announced today. The deal, made by Lions Gate with USA Network, provides for a full season commitment to the new series, based on the characters and story of world-renowned author Stephen King's best-selling book. THE DEAD ZONE is distributed by Lions Gate throughout North America while Paramount will sell the show in international markets.

THE DEAD ZONE, a unique psychological thriller combining a rich mix of action, romance, the paranormal and a continuing quest for justice, tells the story of an Everyman, Johnny Smith, played by Anthony Michael Hall. Smith is about to be married and has his entire life ahead of him when he is injured in a car accident and goes into a coma. When he emerges from the coma, Smith finds that his fiancee is married to another man, he has a son who doesn't know him and he is both blessed and cursed with strange psychic powers.



Check out King's offcial site http://www.stephenking.com for some exciting Dark Tower news! You can download 28 pages of Dark Tower V for free starting today!

In other news, there is another live version of King's "L.T.'s Theory of Pets" available FREE of charge for download at BN.com!

http://www.barnesandnoble.com/bookshelf/horror/king/king.asp

Scroll down at a bit and you'll find:

Stephen King in RealAudio

Listen to Stephen King read his short story "L.T.'s Theory of Pets." This reading was recorded at The New Yorker's 75th Anniversary Festival in May 2000.



There is another live version of "L.T.'s Theory of Pets" available FREE of charge for download at BN.com!

http://www.barnesandnoble.com/bookshelf/horror/king/king.asp



TNT is adapting Stephen King's Salem's Lot into a four-hour mini-series and according to The Hollywood Reporter screenwriter Peter Filardi ("Flatliners," "The Craft") will adapt the novel. Producer Mark Wolper ("The Mists of Avalon") hopes to have the same jarring affect on today's audiences, as did the 1979 version starring David Soul and James Mason. According to E! the miniseries will air next season.



Here's a link to a review of upcoming and current film adaptations of King's work: 13thstreet.com



The Hollywood Reporter is reporting that filmmaker Lawrence Kasdan has come aboard to direct and produce the feature adaptation of Stephen King's best-selling novel "The Dreamcatcher" for Warner Bros.-based Castle Rock Entertainment. There is no start date yet. "Dreamcatcher," which is being adapted by William Goldman, is a thriller about four childhood friends who share a special relationship after having performed a heroic act. Years later, they must reunite for another heroic act -- to save Earth from a mysterious force. The project is said to have elements of "The Green Mile" and "Stand by Me," both of which are King novels that Castle Rock has brought to the big screen.



The Girl Who Loved Tom Gordon won't be shooting anytime soon. It is still very alive though. As recently as a few weeks ago, George was discussing the script with Stephen King, followed by a major re-write. The movie will be VERY faithful to the novel and that Tom Gordon himself had expressed interest in playing himself in the movie. Nothing is confirmed though.



A new web pages similar to Yahoo! but caters to Horror fans is online at Ya-Horror Search Page



Production began April 17 on The SCI FI Channel's upcoming original Firestarter miniseries, based on the Stephen King novel and starring Marguerite Moreau (Queen of the Damned), Malcolm McDowell (A Clockwork Orange), Danny Nucci (The Rock) and Dennis Hopper (Blue Velvet). The four-hour miniseries--tentatively titled Firestarter: The Next Chapter--began shooting in Salt Lake City under the direction of Robert Iscove (Cinderella), based on a script by Philip Eisner (Event Horizon).

"Firestarter: The Next Chapter" picks up the story of Charlene "Charlie" McGee (played originally by Drew Barrymore) 20 years after the events in the original book. Charlie (Moreau) has spent the past 20 years on the run from the government that created her and killed her parents. Tired of running, Charlie searches for answers to her dangerous and out-of-control psychic fire-starting powers. She discovers those answers at the university that ran secret mind-altering experiments on her parents.

Rainbird (McDowell), a sociopathic agent who wants to control Charlie's powers, has finally caught up with her. The secret experiments never stopped, and now Rainbird has a human arsenal of powerful children with strange psychic abilities with which to catch Charlie. In the coming battle, Charlie's only chance for survival might be a turncoat government agent (Nucci) and half-mad character named Richardson (Hopper).

The mini-series is tentatively scheduled to air in December



Dolan's Cadillac: Sylvester Stallone is confirmed to star as Jimmy Dolan, a local mob boss. Kevin Bacon is currently in negotiations to join the film as Tom Robinson, a science teacher and husband who gets King-style revenge for his innocent Francey's murder (a mob hit to protect Jimmy Dolan). The project is scheduled to start production in May. Read a review of the script.




UPN's development slate for the 2001-2002 season includes a series based on the Stephen King novel THE DEAD ZONE from Michael Piller (Star Trek: Voyager).



Paranoid is a new film based on a 100 line poem in Skeleton Crew, this short adaptation by director and cinematographer Jay Holben will be released on DVD (with the magazine Total Movie) on March 15, 2001 and then on the Internetin the spring of 2001. Check out the official web site at http://www.paranoidthemovie.com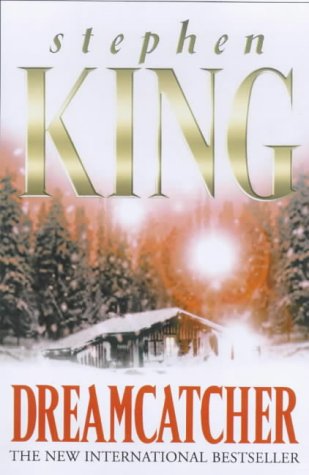 This is the UK cover from Hodder & Stoughton

Stephen King and John Mellencamp are collaborating on a haunted musical (currently still without title). The storyline is about two brothers who are very competative and dislike each other immensely. Their father takes them to the family cabin which they hadn't been to since they were kids. It is there that the brothers discover they have a few skeletons in the family closet. It seems their father had had two older brothers who hated and killed each other in that very same cabin. King has already written a synopsis of the show and won over financial backers. Mellencamp has already written four songs. The show could be ready for the fall 2001 season.



Riding The Bullet is being adapted into a feature-length film by Mick Garris who has completed writing the screenplay. Since this is a short story, elements will be added to the original story in the movie.



Peter Straub announced that there will be a limited edition of Black House, the sequel to The Talisman. It will be published by Donald M. Grant. Do not contact Grant about this book yet, though. Try them in about six months. Grant's web site is www.grantbooks.com



Read the transcript of the AOL interview here.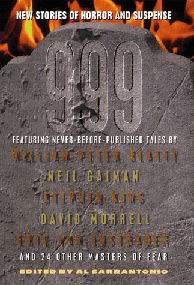 Read an essay written by Stephen King.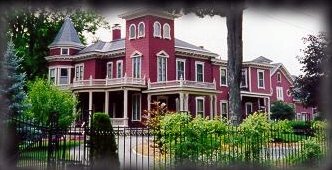 Stephen King's Maine Home
---
Looking for some other Stephen King material? Check with Amazon.com below and you'll probably find it there!

---
---