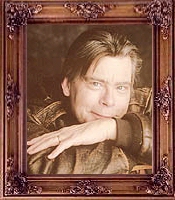 As you can see if you are a returning visitor, we have changed things around a bit here. After 2.5 years of the same look we decided it was time for a change. The web site contains all of the great information you saw in the past along with a few new items. We are in the process of a new crossword puzzle and you can now sign up for our monthly (hopefully!) newsletter to keep you informed of any King related information.

Browse around and get a 'feel' for the new look. Should you have any questions, please drop us a line and we'd be more than happy to help ya out!

We would also like to thank everyone who visited us during the month of March, we had over 1 million hits to this web site! Thanks so much for making this such a popular place!

If you are coming here to pick up a postcard, enter the number from the email you received in the box to the right and it'll be magically retrived for you!

Another feature of the new Stephen King Web Site are the online classified ads. You can buy, sell or trade any type of Stephen King related material for free! Browse through the ads or place one yourself to sell your King related material.




This web site was last updated Jul 14th, 2002 @ 8:36 PM.


If you would like to add your email address below you will receive a monthly (hopefully!) newsletter keeping you up-to-date on all the King happenings. Your email address will not be used for any other purpose than the newsletter. Read our
Privacy Statement
for more information.
Your email address:


If you received an email message with a claim number for a postcard, please enter that claim number below. If you would like to send someone an online Stephen King postcard click
here.


Looking for that hard to find King book? Check out our
online classifieds
ads and maybe you'll find what you're looking for!